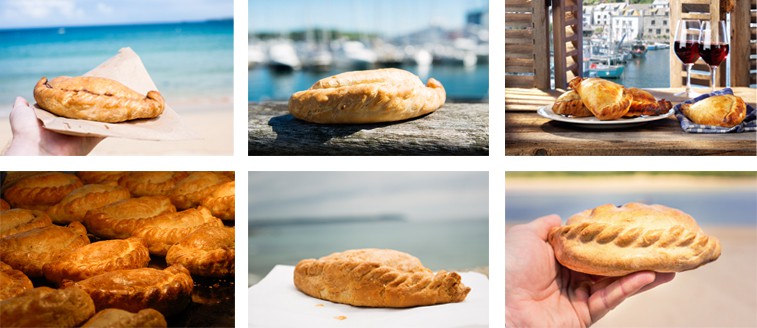 Guest blog
No holiday to Cornwall would be complete without trying at least one delicious Cornish pasty - here are just a few of our favourites...
Ann's Pasties, Helston & The Lizard
If you're staying on the Lizard Peninsula, trying a pasty from Ann's Pasties is a must. A family business, it's run by three generations of Cornish bakers. They source their beef from a farm within a 10 mile radius of their base and their turnip and onion comes from Leedstown, a village between Helston and Hayle. 
Why not grab yourself a pasty and head to Kynance Cove - one of the most beautiful beaches in Cornwall. You can walk there on the south west coast path from the Lizard Point and enjoy the dramatic cliff-top views on the way there.
Philps Famous Pasties, West Cornwall
Philps pasty shops are dotted all over West Cornwall, in Hayle, Camborne, Marazion, Porthleven, Helston and Praze-an-Beeble. Originally created by Sammy Philp who started selling local groceries and vegetables when he was 15, Philps Famous Pasties are now arguably one of the most popular pasties in Cornwall.
Sammy's cousin, Everett Philp was the baker of the family who began to make the tasty pasties. Only premium quality ingredients are used in Philps pasties which are freshly baked every morning.
We would recommend you grab your delicious pasties from the original shop in Hayle, and then take them to Gwithian beach to enjoy eating them with an amazing view. When you return home after your holiday, you can order their pasties by post to bring the taste of Cornwall home!
If you're looking for a Cornish pasty shop in St Ives, one of our favourites is St Ives Bakery. Their traditional pasties are available in shortcrust or flaky pastry, with a variety of different fillings.
St Ives Bakery is quite unique and has an old fashioned feel to it. Their pasties are freshly baked throughout the day and are absolutely delicious. Their homemade scones are great too, perfect to take back to your holiday accommodation for a Cornish cream tea!
Psst! If you're staying in the local area, why not take your Cornish pasties back to your holiday cottage in St Ives or enjoy them on the harbourside or one of the beautiful beaches?
St Agnes Bakery is a small pasty shop and bakery in the charming coastal village of St Agnes on the north coast. They've been baking pasties since 1905 and also have some rather delicious cakes for sale!
Walk down to Trevaunance Cove and eat your pasties with a sea view or enjoy one after a coastal walk. St Agnes is situated in a Cornish mining area, so the rugged coastline is dotted with old tin mines and engine houses.
Pasties were the traditional food eaten by miners. They used to be made with meat at the top and jam at the bottom, so they had their main and dessert all in one pasty. The crimping on the pasties was invented for the miners to hold onto their pasty without getting the main part of the pasty dirty!
For a freshly baked pasty with a harbourside view, we love Chough Bakery in Padstow. Their pasties are particularly golden and they are often asked what their secret ingredient is. They say there isn't one, but they believe in using locally sourced ingredients.
Take your pasty to the harbour and find a bench or somewhere to sit at the water's edge. Just watch out for all the seagulls! After your pasty, go for a drink in a harbourside pub, explore the art galleries and gift shops or go out on a speed boat ride from the harbour.
If you just can't get enough of the great taste, take a box of twelve home with you or order their pasties by post service when you return home.
This hidden gem is a tiny little bakery in the harbourside town of Looe. Sarah's Pasty Shop has been around for about 26 years and it was formerly an old fishing cottage.
Sarah has now retired but it's still a family run business, now run by her daughter Lucy. Their pasties are easily distinguishable because of the amount of filling in them! Sit by the harbour and enjoy what is possibly one of the crispiest yet juiciest and most flavoursome pasties around.
After your pasty, go for a walk on the beach, wander through the cobbled streets or find a cosy pub to retreat to. Sarah's cake shop is well worth checking out too!
Pengenna Pasties, Bude & Tintagel
Pengenna Pasties began in 1985 and has shops in Tintagel, Bude and St Ives. Bude is a great destination for a surfing holiday or walking on the dramatic coastline.
Tintagel has spectacular scenery, the castle where King Arthur was supposedly born, and a cave which - it is said - belonged to Merlin. St Ives is a picturesque town and an artist's paradise.
Pengenna Pasties are homemade using the original family recipes. They are particularly famous for their crimping skills and many of the reviews comment on being impressed by the crimping, as well as the delicious flavour of the filling.
Malcolm Barnecutt, various locations in Cornwall
Last but not least, Malcolm Barnecutt Bakery have been making pasties for about 90 years and now have several cafes across Cornwall with comfy seating areas. Locations include Bodmin, St Austell, Wadebridge, Newquay, Launceston and Liskeard.
They are a family run business and a kraft bakery, using locally sourced ingredients. The pasties are freshly made overnight and then baked to order during the day, so you can guarantee that your pasty will be piping hot.
If you're planning to cycle the Camel Trail during your holiday, stop off for an hour or two in Wadebridge and enjoy a delicious Barnencutt's pasty in the park or by the river.
Please note: This is a guest blog and contains promotions.