Win a Cornish Chocolate Cream Tea Hamper
Prize draw ends: 26th November 2017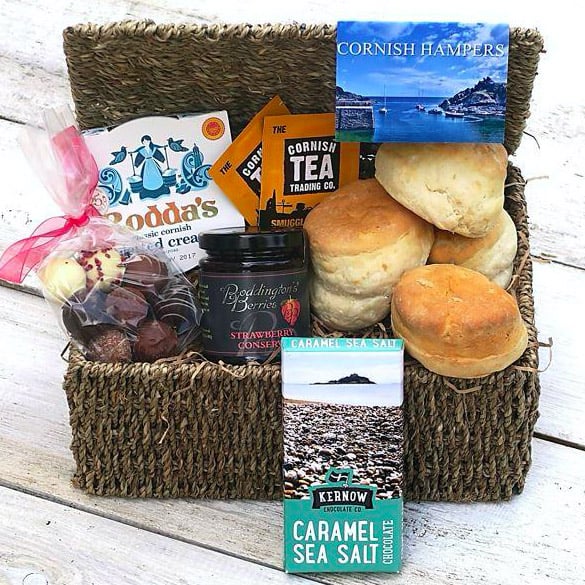 Don't miss your chance to win a luxury Cornish chocolate cream tea hamper filled with delicious goodies! This includes:
4 Large Plain Scones
113g Rodda's Cornish Clotted Cream
113g Boddingtons Strawberry Jam
2 Cornish Tea Sachets
Cornish Hampers 6 Luxury Chocolate Truffles
100g Sea Salted Caramel Chocolate by Kernow Chocolate
Rustic Lidded Hamper
To enter, simply fill out the form below:
Terms and conditions:
- Open to residents of the UK. Entrants must be over 18.
- Maximum one entry per person unless otherwise stated. Entries via agents of third parties or the use of multiple identites and email addresses are not permitted.
- Entries must be completed online by the closing date stated. Use of automated entries or programs is prohibited and all such entries will be disqualified.
- No cash or other alternative prizes are available.
- We reserve the right to modify, suspend, cancel or terminate the promotion or extend or resume the entry period or disqualify any participant at any time without giving advance notice and will do so if it cannot be guaranteed that the competition can be carried out fairly or correctly for technical, legal or other reasons.
Your Personal Details
By entering this prize draw, you are agreeing for your personally identifiable information to be used by Cornish Hampers and We Are Group Ltd. who may use it to provide you with ongoing information about their products and services.
You may receive communications from each business, although you can unsubscribe at any time, if you wish to do so. Your personally identifiable information will not be rented, sold or leased to any other companies or individuals. For further details on how your data is used and stored please read our Privacy Policy.