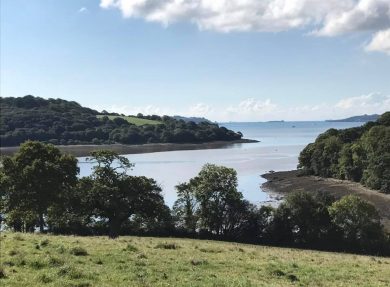 Feock, on the Carrick Roads – even the name alone oozes romance and intrigue. The village is just four miles from Truro but creates a magical oasis in an Area of Outstanding Natural Beauty. There may have been a settlement here as far back as 3-4,000 years ago and the parish church takes its name from the little-known Saint Fioc or Feoca.
Whatever its origins, Feock is certainly a beautiful spot to visit – bounded by the Carnon River and Restronguet Creek on one side, with the River Fal on the other. The King Harry Ferry has operated across this short but deep stretch of water since 1888, avoiding the 27-mile road alternative. One of just a handful of chain ferries remaining in operation in the UK, the King Harry transports 300,000 cars a year between Feock and Philleigh.
During the 19th century there were several boatyards on the river near Feock, building small ships for an area rich in minerals, particularly tin. There was a major port at nearby Devoran and later a railway line to transport men, equipment and ore.
The image "Sailing on the River Fal" (shown above) is licensed under CC BY 2.0. Copyright: Edward Webb. 
We love...
Trelissick – the National Trust's glorious 375-acres of woodland, parkland and a 40-acre garden on the Feock side of the river. There's all-year-round colour and a massive collection of species that the Victorian plant hunters brought to the Westcountry – camellias, rhododendrons and a collection of photinia and azaleas. Beautiful views of the river and excellent facilities – an art and craft gallery, plant shop, restaurant and café. Dogs are allowed in the woodland area.
Don't miss...
St Feock Church dates back to the 12th century with a 13th-century tower and font and extensive renovation from the 19th century. It has a beautiful stained-glass window and a Cornish cross in the churchyard. The bell tower isn't on the main church building, however. It sits alone.