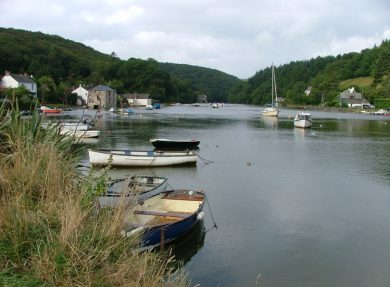 This archetypal Cornish village close to Lostwithiel takes its name from the River Lerryn which runs through it - a tributary to the River Fowey and probably named after the Cornish word for waters, "lerion". A bridge, built in Elizabethan times, crosses the river but you can also walk across on stepping stones when the water is at low tide.
The river has certainly shaped the village's fortunes. There was a mill and a silver smelting house here in the mid-16th century which processed ore from mines in Padstow, Perran and St Columb. Lerryn had a later role as a port with goods being transported here via the river and the presence of boat builders and associated trades. Inevitably, smugglers found Lerryn a useful place for landing contraband away from the Excise Men and there is a Brandy Lane in the village offering a clue to its illicit trading past.
Lerryn is in an Area of Outstanding Natural Beauty with many beautiful waterside and country walks. There are wooded valleys with bluebells in spring, the 15th church of St Winnow, two miles away, has lots of Celtic Crosses to admire and the glorious gardens of 18th century St Ethy House open to the public several times a year.
*Photo above © copyright Robert Pittman - Licence. Photo to the left - © copyright Nigel Homer and licensed for reuse under this Creative Commons Licence.
We love...
Lerryn oozes community spirit with lots of local groups including a produce association which organises an annual show, a thriving WI and groups making the most of the river's potential for leisure activities. There's a Memorial Hall and other venues for meetings.
Don't miss...
There's a 16th century pub in Lerryn, The Ship Inn, with slate floors and candlelight and a well-stocked shop and post office, the Lerryn River Stores. The shop is a real ambassador for Cornish produce including Cornish Gouda, dairy produce from Trewithen, Roddas and Roskilly's and bread from Chapel and Blake's Bakeries. Cider comes from Haye Farm Cider in the village where they also make Fowey River Gin with vodka, distilled from potatoes at Colwith Farm on the other side of the river, and an infusion of cider apples.