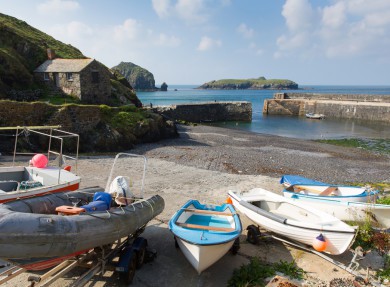 Mullion is the largest village on South Cornwall's Lizard Peninsula. It sits on a beautiful rugged coastline, home to many popular beaches as well as secret coves.
With a great sense of community and a welcoming atmosphere all year round, Mullion has plenty to offer including cafes, delis, craft shops and art galleries. In the centre of the village, the 15th century church of St Mellanus boasts some richly-carved oak bench-ends that depict biblical scenes like that of Jonah and the whale.
No visit would be complete without a visit to dramatically beautiful Mullion Cove. Owned by the National Trust, it has a pretty working harbour that is well protected from the worst of the weather by stout sea walls.
Mullion on Tripadvisor
We love...
Polurrian Cove, the area's main beach. You can get to it from the coastal path and its sand, sea and location make it popular with both families and surfers.
Don't miss...
Mullion Island – a bird sanctuary just off Mullion Cove that is famous for its breeding colonies of Kittiwakes, Cormorants and Guillemots. Also known as Toldhu, it's a flat slab of dark rock that can be seen from nearby cliffs. You can also take a boat trip around the island to view it close up.