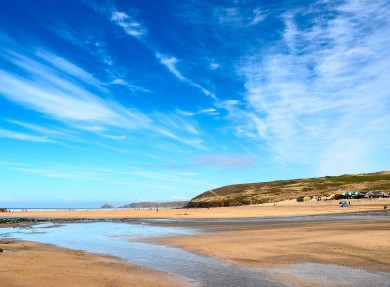 St Pirans Road
Perranporth
Cornwall
TR6 0BH
One of the biggest and best beaches in Cornwall
Three miles of golden sands and the swells of the Atlantic Ocean make Perranporth's beach one of the finest and most loved in Cornwall. The neighbouring dune system is teeming with wildlife and full of fascinating walks.
For keen golfers, there can be few courses with more stunning views than the Perranporth links course and horse riders will love a hack along the country lanes and bridleways – or even the beach! It's no wonder the countryside around these parts inspired Winston Graham's Poldark novels.
Water sports' fans can try surfing, kite buggying, sailing, and body boarding here. When the tide's out the natural tidal pool provides a great swimming alternative.
In Perranporth there's plenty of things to do, see and experience from waterfront restaurants, beachside bars and proper pubs alongside well-stocked local stores and weekly markets. There are also a host of galleries and festivals to enjoy. Take a trip down memory lane and imagine what it must have been like for the first surfers here at the exhibition of early surfboards in the town's museum.
1
We love...
Grabbing a local cider and listening to singers from across Europe at the annual Perranporth Shout sea shanty festival in Apri
Don't miss...
Music and events at The Watering Hole, the UK's only bar on the beach. Catch artists from Reef to Billy Ocean and Wheatus to D