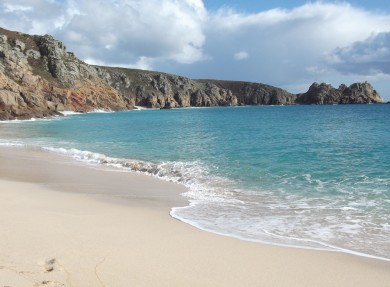 Porthcurno is a tiny village with a worldwide reputation. It lies just east of Land's End on the south coast of far west Cornwall, built around one of the most beautiful coves in the world.
Porthcurno is famous for once being the centre of worldwide telecommunication and the home of a training school for that industry, attracting students from around the globe. The Telegraph Museum overlooking the turquoise waters, white sand and rugged cliffs of the cove is testament to the village's fascinating and inspiring past. It incorporates the underground tunnels used to house secret communication equipment during the Second World War.
Photo credit: Header image - Kathryn Yengel, license.
We love...
The Minack Theatre, an open air venue carved into the granite cliffs rising from the western side of Porthcurno's beautiful beach, using the Atlantic Ocean as its backdrop.
Don't miss...
The White Pyramid, a striking monument on the coastal path built on the site of the hut that housed the end of the submarine telegraph cable connecting to the French port of Brest – the first section of the connection between the UK and America.