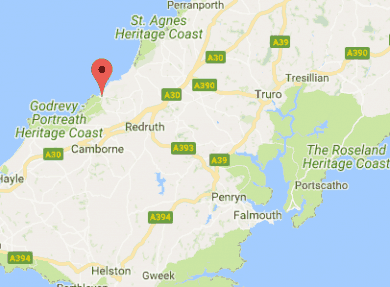 In the early 19th century, Portreath was a thriving port exporting copper ore from the busy Cornish mines in Chacewater which was then shipped to Swansea in South Wales for smelting. On the return journey, coal would come from the Welsh mines to the Duchy.
Such was the importance of the copper ore trade that Cornwall's first railway, the Portreath Tramroad, was opened in 1809 to link the harbour with mines at Scorrier and St Day. The wagons were pulled by horses and the remains of some of the routes can be seen on the 15-mile-long Mineral Tramways Coast to Coast which links Portreath with the south coast village of Devoran.
Today the main industry in Portreath is tourism, with families attracted by the pretty, sandy beach. Bodyboarders and surfers can enjoy a good swell here, which at high tide can turn into a spectacle known as The Vortex as the waves run off the harbour wall. It can be dangerous to do, but is fascinating to watch.
Portreath has plenty of shops and places to eat and drink to keep visitors happy and there are lots of good local facilities nearby - including several golf courses, indoor swimming pools and horse riding centres.
1
We love...
There are spectacular views from the cliffs at Portreath, which is at the edge of the Portreath Godrevy Heritage Coast. A walk along the cliffs towards Hayle is rich in wildlife and flora and offers a bird's eye view of rocky coves including Ralph's Cupboard, once a favoured hiding place for smugglers. You might even spot the odd basking shark.
Don't miss...
Tehidy Country Park is less than two miles from the village and has over 250 acres of quiet woodland and lakes to enjoy. Tehidy was once owned by the Basset family who owned extensive land in this part of Cornwall, much of it rich in minerals. There's a café and picnic area and lots to see all year round.