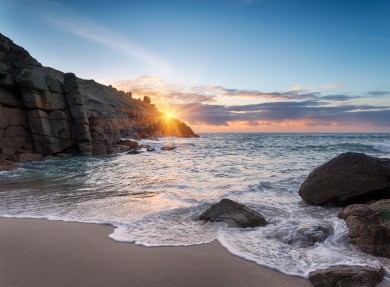 Both a parish and village, St Levan is a beautiful area of Cornwall – offering picturesque beaches, such as Porthcurno and Porthgwarra, historic landmarks and stunning walks.
Designated as an Area of Outstanding Natural Beauty, two sites of Special Scientific Interest can also be found within the rural parish due to the geology and vegetation in the area.
There are many beautiful places to visit in St Levan, including the holy well – which can be found on the South West Coast Path, above the beach at Porth Chapel. Previously believed to cure a number of ailments, the water from the well is still used for baptisms occasionally. A chapel can also be found below the well, accessible by stone steps. Comprising of two small rooms, it is thought to be the oldest Christian building in Cornwall.
Heading off along the South West Coast Path, you can enjoy stunning views and beautiful heathland - whilst at St Levan Church, further interesting history awaits in the form of a large granite rock that lies split in two pieces. Legend has it that should a donkey with panniers astride be able to pass through the space between the two pieces, it will signify the end of the world.
St Levan on Tripadvisor
We love...
The walk from Porthgwarra to St Levan, taking you through the beautiful heathland and ending at a tiny beach – the perfect place for a family picnic.
Don't miss...
A trip to the Porthcurno Telegraph Museum where you can discover technology that changed the world.