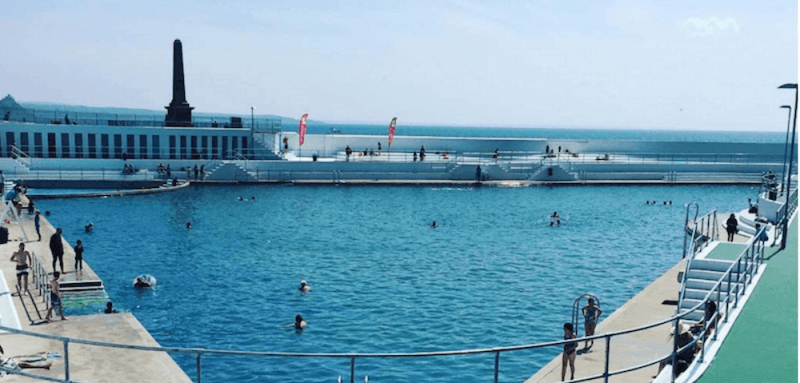 With its iconic triangular shape and soft curves, the Jubilee Pool in Penzance is truly a work of art.
Following severe storms in February 2014, Jubilee Pool was all but demolished – however, following a full refurbishment at a cost of millions, the art deco lido is back to looking its beautiful best.
Designed by Captain F Latham, the pool was first opened in 1935 - the year of King George V's Silver Jubilee. Latham chose a popular bathing spot at Battery Rocks to build the pool, designing it to cope with all but the most ferocious of seas.
However, over the years the pool has had its fair share of close escapes. Whilst it was built with high streamlined walls with storm waves in mind, over its first fifty years the relentless battering took its toll on the pool and in 1992 the lido required some essential work in order for it to survive. It was thanks to local architect John Clarke and other supporters that funding was found and the Jubilee pool was saved.
Fast forward 22 years and once again, as huge seas threatened to finish it off, the local community came to the lido's rescue and the pool was re-opened in all its glory.
With stunning views of St Michael's Mount one way and the coastline of Penwith the other, the views are hard to beat. Swimmers can enjoy a safe place to swim, whilst spectators can make use of the terraces, picnic tables or enjoy some refreshments at the café.
Incorporated within its boundary you'll also find a memorial to those who died in the First World War with 209 names carved on the sides of an imposing obelisk.
If you haven't had the chance to visit Jubilee Pool up until now, why not head over there this summer?