Saturday morning. Chore day. Do the washing, make some attempt at cleaning and go to town to buy essentials for the week ahead. Until Liz rang. "You know you said you'd like to visit Port Quin? How about going today?" Routine and the familiar versus adventure and exploration? "Great idea. I'll pick you up at eleven."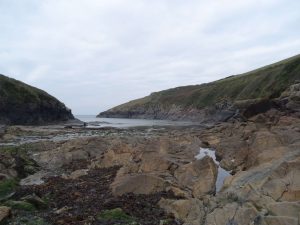 And so we set off. I'd never heard of Port Quin before coming across it in a book called 'Poldark's Cornwall' by Winston Graham. Located on the north coast near Port Isaac, it's sometimes known as the "village that died". Why? Because one night during the nineteenth century legend has it that all the men in the small coastal community were out fishing when they were caught by a storm and drowned. Unable to continue putting food on the table without their men folk, the women left behind were forced to abandon their homes to the elements and leave with their children. It's a desperately sad tale of tragedy and loss and one that was probably all too common in this part of the world little more than a century ago.
There's definitely a feel of travelling back in time as you take the narrow country lane in St Endellion that leads to Longcross Victorian Gardens and the turning to Port Quin. On the left as you start to descend to the cove is the entrance to Doyden Castle. Built in 1830 as a retreat for a local businessman and said to be the venue for much partying and gambling in its time, it's now a National Trust holiday home. We saw the building clearly from the coastal path that we walked on the other side of the beach and I can only describe it as a rather strange-looking crenellated tower with arched windows and Gothic archways in a glorious seaward facing position. The views must be spectacular.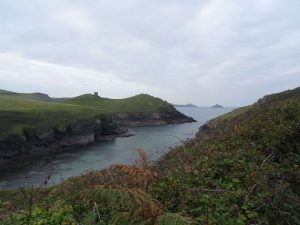 Port Quin itself is tranquil, beautiful and atmospheric. Nestled between dramatic headlands, it's a sheltered inlet that is reputed to have been the place that Viking longboats once came ashore. Indeed some say the remains of one of them are buried there. It's not hard to imagine ships from that ancient past coming in and, more recently, fishing boats going out in search of the pilchards that were key to the villagers' livelihood. The old fish cellars are still in existence today among a scattering of holiday properties. Little has changed over the centuries – making this a wonderful spot to visit, admire and reflect on all that has gone before.
After taking in the magnificent vista from the cliffs above the hamlet and letting our dogs run in a safe but impossibly positioned stretch of grass that took in vast expanses of coast and sea, we walked back to the car and drove on to Port Isaac just a few miles further on. I'm ashamed to say it's another place I've never been to. Globally famous for its starring role in Doc Martin, visitors flock to see its quaint, narrow streets, charming cottages and picturesque harbour. Thankfully it doesn't seem to have been spoilt by celebrity. True there are lots of opportunities to buy film and TV memorabilia (including a mug with a picture of a half naked Aidan Turner offering a grass cutting service that I'm still tempted to buy) but, helped perhaps by the necessity to park at the top of the hill and walk down, it's still a working fishing village with plenty of character and genuine authenticity. The food is excellent too. Liz and I both enjoyed fresh crab for lunch in one of the cafes and the cream tea we had at the Terrace Tearooms after the steep climb back from the cove (our excuse for giving into temptation) was simply sublime.
The final stop on our day-long excursion was St Endellion. Well known for hosting very popular music festivals and being the chosen middle name of Prime Minister David Cameron's youngest daughter who was born in Cornwall, the church and its surrounding parish date back centuries. As a great fan of poet Sir John Betjeman who lived and loved the area, however, it is his words that I will use to describe what we found:
"St. Endellion! St. Endellion! The name is like a ring of bells. I travelled late one summer evening to Cornwall in a motor car. The road was growing familiar, Delabole, with its slate quarry past, then Pendoggett.  Gateways in the high fern-stuffed hedges showed sudden glimpses of the sea.  Port Isaac Bay with its sweep of shadowy cliffs stretched all along to Tintagel.  The wrinkled Atlantic Ocean had the evening light upon it.  The stone and granite manor house of Tresungers with its tower and battlements was tucked away out of the wind on the slope of a valley and there, on the top of the hill was the old church of Saint Endellion."
Wandering down age-old aisles, reading the wall plaques and breathing in history within St Endellion's granite walls, it was a fitting, contemplative end to a magical foray into just one small part of our county's astonishing, visually stunning heritage.