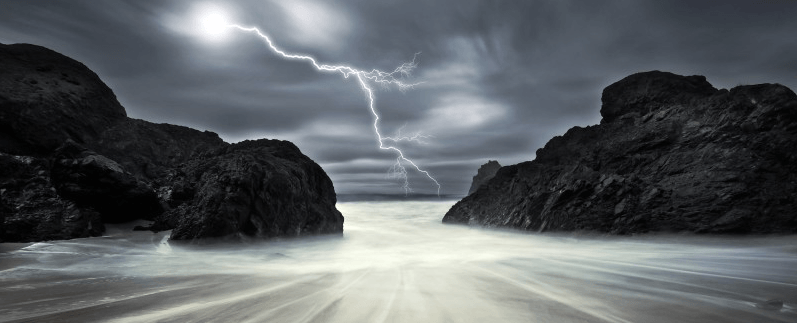 Now that the summer has come to a close, the winter storms are fast approaching. For Cornwall, this means spectacular scenes of thrashing seas and metallic skies. There is nothing more exhilarating than watching a Cornish storm unfurl from a safe distance, whilst wrapped up warm with a flask of hot chocolate. Here are a few of our favourite locations on the Cornish coast to see them.
Cape Cornwall
This rugged headland in West Cornwall is a firm favourite amongst storm-lovers. Atlantic currents split in the deep waters off the coast here, contributing to vast rolling waves when a storm takes hold. The carpark at Cape Cornwall is an excellent vantage point from which to watch the sea thrash up against the headland whilst remaining at a safe distance. Staying warm and sheltered inside your car is a bonus!
Trebarwith Strand
At high tide, the surrounding cliffs at Trebarwith Strand act as a chasm to the pounding waves, creating great fountains of sea-spray and thundering rumbles all around. The rocks at the mouth of the beach are dangerous in these conditions, but the lane overlooking the beach next to the Port William pub makes for much safer spectating, and you can see further along the coastline from here too.
Mousehole
Relive memories of the Mousehole Cat, as storms rage outside the sheltered confines of the harbour. Clouds of spray erupt against the harbour walls behind the colourful rows of fishing boats, momentarily transporting onlookers to the pages of childhood storybooks. There are plenty of cosy cafes and restaurants in Mousehole where you can escape the elements and warm up with a good cup of coffee.
Penzance Promenade
Some of the most dramatic storms can be seen from the Promenade in Penzance. Towering walls of water leap up against the wall below, often cascading down onto the promenade itself. This is an excellent place to look out at the billowing white horses of the churning seas, but in more powerful storms the enormous waves can be dangerous, and storm-chasers are advised to stand well back.
Gurnards Head
The Gurnard's Head is another beautiful headland in West Cornwall, near to Zennor. The unusual shape of the headland makes for a particularly dramatic backdrop to the foaming cauldron of sea, and the untamed landscape here is enhanced by blackened skies. However, please be sure to remain safely off the narrow headland in high winds. Once your storm-chasing adventures are finally complete, the cosy Gurnard's Head pub is a safe haven in which to warm up.