Cornwall has 400 miles of beautiful coastline, and over 6,000 footpaths and coastal walks – making it the perfect destination for walking holidays. In spring the county is brought to life, with an array of flora and fauna, buzzing wildlife and unpredictable weather. Whether you're after a leisurely stroll or a challenging hike, there's a walk in Cornwall for you.
Godrevy Head

A brisk easy half mile walk with spectacular views across to St Ives Bay. The path leads from the National Trust car park round Godrevy Headland passing the offshore lighthouse made famous by Virginia Woolf's novel 'To the Lighthouse'. Spring transforms the headland as a plethora of wildflowers cover the grassy headland. A great walk for wildlife enthusiasts with the opportunities to spot seabirds, seals and sharks.
Start at TR27 5ED
Pentire Point & the Rumps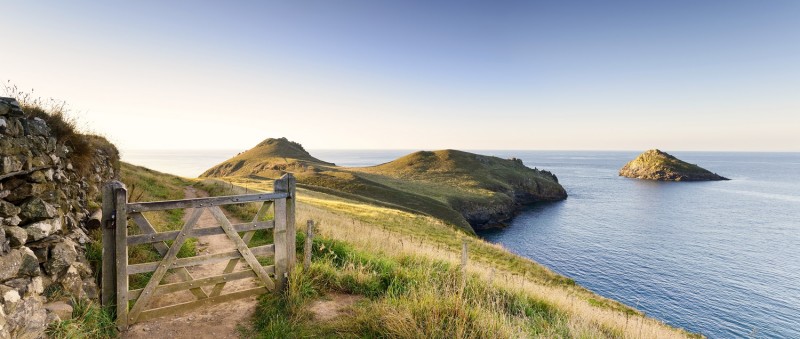 A moderate 2.6 mile headland walk with sweeping views of the Camel Estuary to Puffin Island. The Rumps are one of the best spots for sea watching on Cornwall's Atlantic Coast- spot dolphins, basking sharks, seals and porpoises throughout the year. A great walk for exploring Cornwall's Iron and Bronze Age history, as the path passes by ancient forts and burial grounds.
Start at PL27 6TB
Bedruthan Steps Circular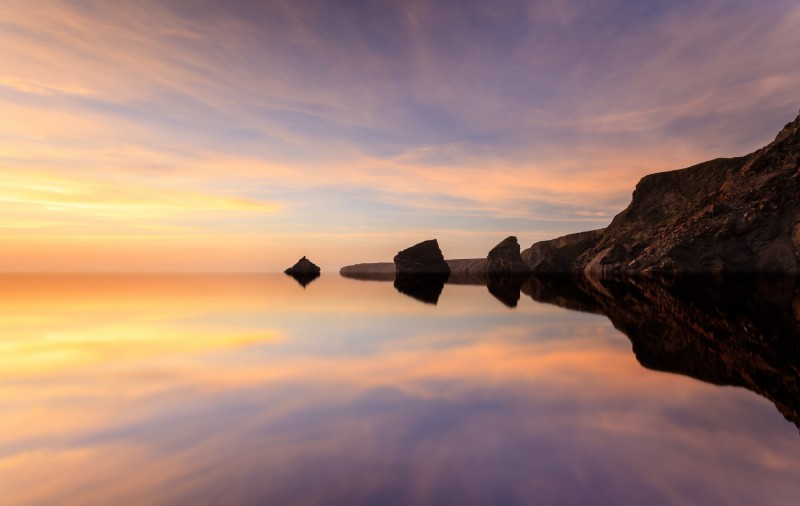 The Bedruthan steps is a 2.7mile circular walk which passes sandy beaches, dramatic cliff tops and the remains of Redcliff Castle before reaching the iconic Bedruthan Steps - volcanic rock islands carved away from the coast. Brought to life in spring with pink headed thrift and coastal greens – a great spot for unusual plant species including tree mallow and golden samphire.
Start at Porthcothan Car Park
Padstow and Stepper Point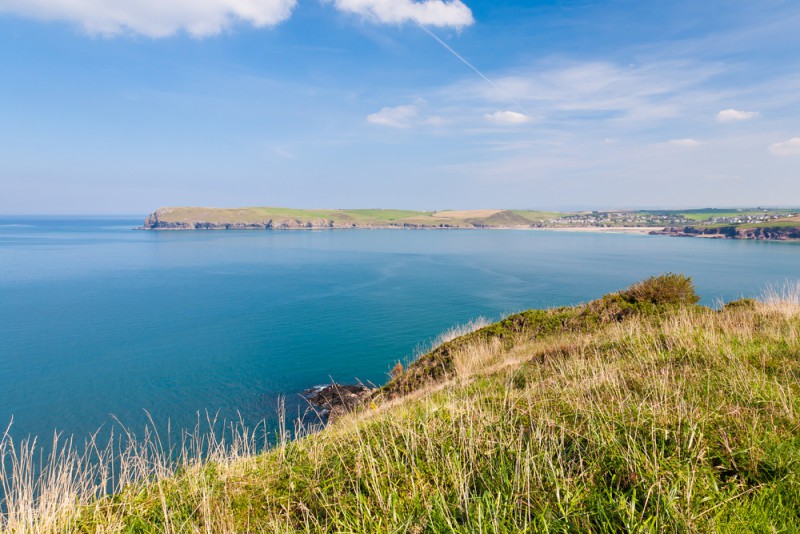 A moderate 6.2 mile walk around the headland where mermaids famously lure sailors to disaster. This springtime walk is lined with lush greens and beautiful pink blossoms. Catch glimpses of dolphins as you explore the beautiful North Coast, sandy bays, secluded coves and unfathomable rock formations. Feeling peckish? Stop in at the 'Rest a while' tearoom – a perfect pit stop with unbelievable views.
Start at PL28 8AF
Loe Bar at Porthleven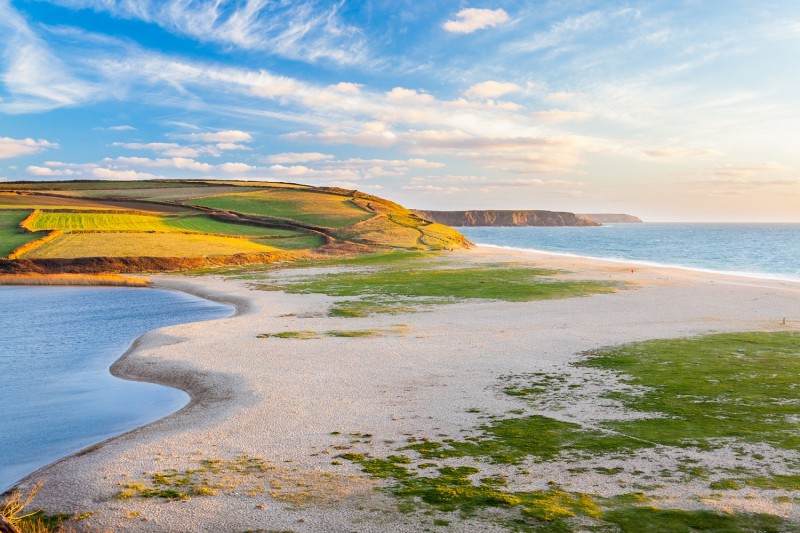 A seven mile walk starting in the harbour town Porthleven, the scenic route from the town crosses Cornish countryside and clifftops, with breathtaking views before arriving at Loe Pool. Famous for the shipwreck of 1807 which cost 120 lives, Loe Bar is Cornwall's largest natural freshwater lake. Backed by the Penrose Estate and woodland, which in springtime are abundant with bluebells.
Start at  TR13 9ES
St Agnes Head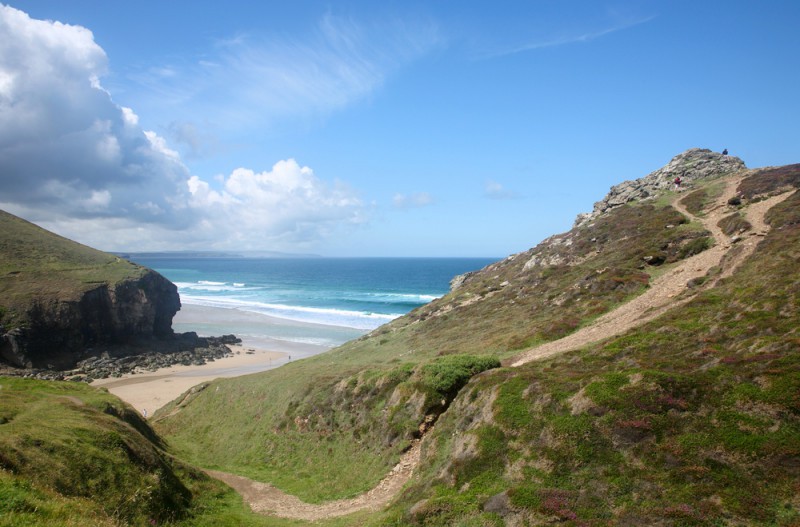 The St Agnes Head is a 4mile circular walk, a feast of colour and aroma during spring - discover the disused engine houses scattered on the cliff tops, reminders of industrial days gone by. Arriving at Chapel Porth beach is special, a hidden gem nestled between two headlands. Take in the extraordinary scenery with an ice cream or hot chocolate at the National Trust Beach Café before working your way back up the valley.
Start at TR5 0RU
Kynance Cove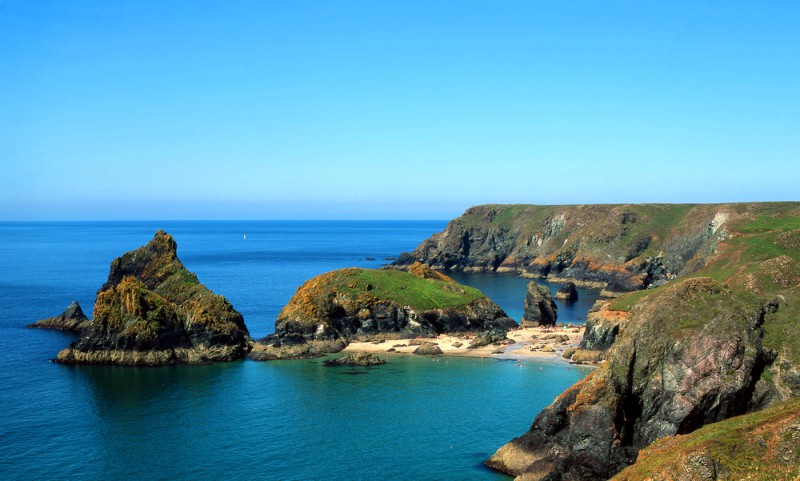 An easy 2.8 mile stroll that takes you to one of Cornwall's most spectacular coves. The clifftop walk provides uninterrupted views of the Lizard Peninsula. Visit on a spring day when the Cornish sunshine exposes the deep reds and greens of the 350 million year old serpentine rocks characteristic of the area. Explore Kynance's trio of islands: Asparagus Island, Gull Rock and the Bishop – don't miss the Devils Letterbox an island cave crack, with powerful suction from the waves below.
Start at TR12 7NH