Feeling adventurous this Christmas? Before tucking into your turkey and indulging in mulled wine and mince pies, or finding yourself surrounded by a debris of wrapping paper - join the thousands of people braving the cold Cornish weather to take part in freezing, festive swims in the name of fun and charitable goodwill.
Before taking a look at a few of the most popular Christmas swims below, there are a few rules and regulations to uphold:
1.     Swimwear only – wet suits are more than frowned upon!
2.     Festive frocks – optional but adds to the sense of occasion.
3.     Come prepared with a hot chocolate, mulled wine and dry clothes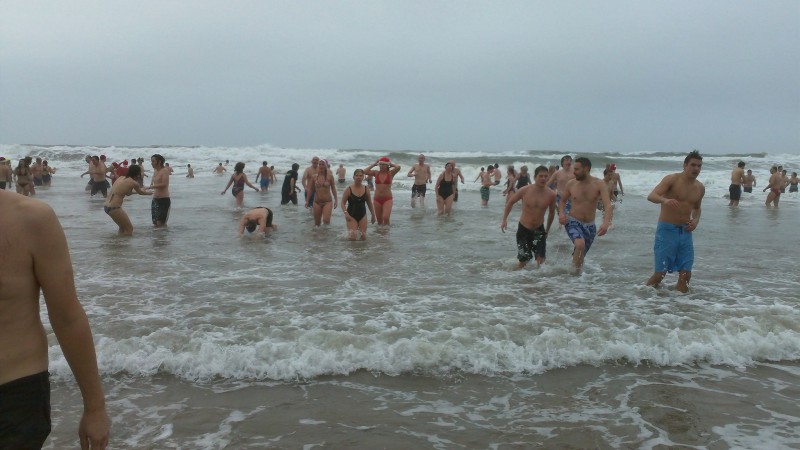 Gwithian
Join over 400 people in a flurry of swimsuits and Santa hats at Gwithian beach this Christmas. From 7am to 11.45 am take the plunge into the chilly Cornish waves for a spine-tingling experience!
Sennen
Celebrate Christmas in Cornish style and help to uphold this 50-year-old tradition by joining 300 other brave souls at the most westerly Christmas swim in the UK – the event starts at 11am on Christmas morning.
It's a swimwear only affair at St Agnes' Trevaunance Cove (and obligatory Santa hats of course).  This 20-year-old tradition that started as a dare from a pub landlady has formed the basis of a north coast Christmas tradition – be there for 11am.
Polzeath
Wetsuits are strictly forbidden at this icy dip where over 400 people leave the comfort of their homes to brave the Cornish seas, working up an appetite for Christmas lunch.
Watergate Bay
Head into the icy waters for a quick dip in front of the Extreme Academy at Watergate Bay, before heading back up the beach to warm up in front of one of the hotel's inviting roaring fires.
Swapping sprouts for a swim, brave souls will endure cold waters at one of the most beautiful spots in Cornwall, Cadgwith Cove. Starting at 11am this famous charity swim isn't for the faint hearted!
Organised by the Bude Surf Club the annual Christmas Day swim will commence at 11 am on Crooklets Beach. Warm up with free mulled wine, hot chocolate and hot showers.
Boxing Day
Hold your breath and brave the icy December waters for a Boxing Day swim at the historic Charlestown Harbour. Organised by the Charlestown Rowing Club this event sees hundreds of swimmers taking a frosty dip for local charities.
New Years Day
Gyllygnvase Beach
There's nothing better to wake you up after seeing the New Year in, than a chilling dip in the sea. Starting at 12pm join the bravest and most daring of all ages for this thrilling annual event.