Gylly Beach Café will be hosting the second in their series of 4 'Themed Food Nights' with 'Tapas Night' this Wednesday 11th November. With the success of last week's Game Night, Tapas Night promises to be lively and delicious, so advance booking is advisable. The café will be serving up some tapas classics crafted with Cornish ingredients, whilst staying true to authentic Spanish flavours. Dishes start at £2 through to £5, so you can seize the day and take the chance to explore some new flavours that you may not be familiar with, as well as sampling some Spanish classics…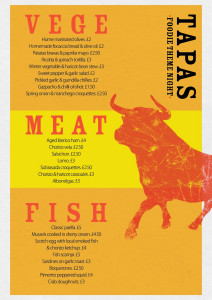 Famous for being a busy affair, tapas is great for larger parties and for anyone who wants to try a little bit of everything - perhaps accompanied by some sangria, tequila, fine wine or local ale! Tapas is all about atmosphere and Gylly Beach Café lends itself fantastically to this kind of event, being a stylish and contemporary open space with a fantastic seaside view, which can be enjoyed day and night.
A sample medley of dishes…
Spring onion & manchego croquettes
Chorizo & haricot cassoulet
Aged iberico ham
Sweet pepper & garlic salad
Classic paella
Sardines on garlic toast
Pimento peppered squid
Crab doughnuts
There's nowhere better to enjoy tapas than beside the sea!