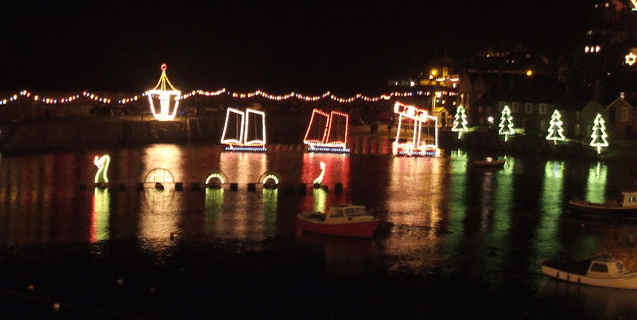 (Photograph by Ian Macnab)
Christmas in Cornwall wouldn't be the same without visiting the various light displays on offer throughout the county. Discover bright city lights and illuminated towns, or visit dazzling harbour displays and village spectaculars - whether your visiting on foot, from the warmth of your car or, (as we prefer) with mulled wine and mince pie in hand, there are plenty of great places to go.
Take a look at some of our must see displays for 2015:
Stupendous, staggering and special, the Mousehole Christmas lights have become the thing of legend since they began from a simple string of lights in 1963. The incredible display that greets you today boasts over 7,000 bulbs and creations that measure up to 160ft long!
 Angarrack Lights

This small village on the outskirts of Hayle takes it's Christmas lights seriously and is home to one of the best displays in Cornwall. Depicting The Twelve Days of Christmas, you'll find everything from a partridge in a pear tree to twelve drummers drumming and everything in between!
Illuminated with a series of beautiful Christmas lights – visit on a Wednesday night for a truly magical experience of festive food, stunning lights and late night Christmas shopping opportunities.
 Explore the delightful narrow streets of the town before watching the local fishing boats bob up and down in the harbour lined with twinkling Christmas lights, which create a festive glow across the shimmering waters.
The quaint harbour village of Mevagissey is synonymous with tales of smugglers, but at Christmas it's one of the best places to go in Cornwall for a dazzling display of festive lights and lanterns. Don't miss the festive sing along on the 14th.