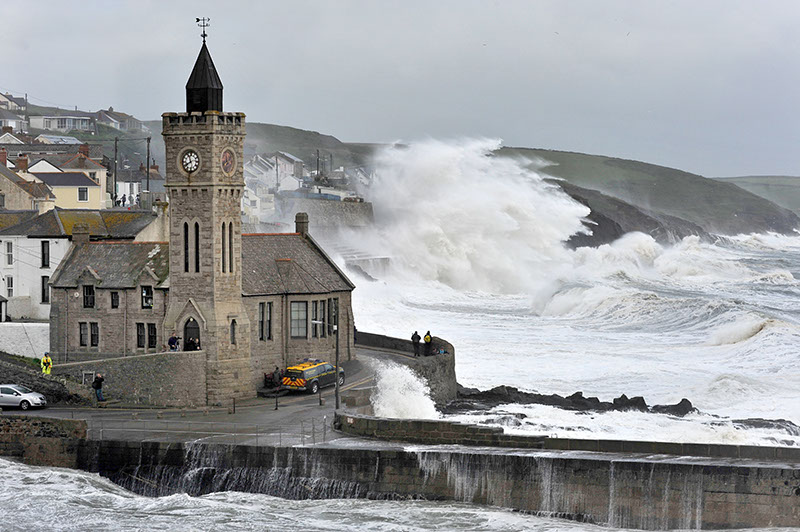 Whilst many may imagine the winter months in Cornwall to be dark and dreary, they in fact offer a variety of festive fun and stormy excitement. As the stormiest part of England, the West Country can expect gale-force winds on around 24 days of the year – with December and January offering the best times for storm watching.
Cornwall in particular offers a number of great places to witness the true power of the Atlantic Ocean, as the exposed coastline is battered with huge waves. If you're looking for a little drama and excitement from your winter break – a Cornish storm is sure not to disappoint!
Whilst you may be able to witness the stormy seas from many locations along the coast (in particular, the north and west coast of Cornwall), there are a few areas that offer the best vantage points when trying to get a good look at the power of Mother Nature. Here are a few of our favourites:
Exposed to the full force of the Atlantic, Porthleven village is often battered by huge waves during the winter months – providing a popular spectacle for many, both from the local area and visitors to the county. Just be sure to keep your distance!
A popular spot for those wishing to visit Poldark filming locations, Botallack is also an impressive sight during a storm. Located on the rugged coastline of West Cornwall, this area is sure to put on a good show when the waves begin to roll in.
As the country's most southerly point, this is one of the best spots for a little storm watching. Watch the treacherous seas as they batter the coastline and keep an eye out for seals, which are common in this area.
Often providing a breath-taking show when a storm rolls in - seeing this stretch of the coastline battered by huge waves makes it clear how the famous sea stacks have been created here over the years.
Recently featuring within the news due to the giant waves seen slamming into the headland here, Sennen Cove has a reputation for putting on a good show during a storm.
Whilst storms in Cornwall can provide awe inspiring spectacles to behold, it is important to remember that they can also be dangerous if safety is not taken into consideration. Whether visiting any of the sites listed above or elsewhere in the county, it is imperative that you keep yourself at a safe distance and choose a secure vantage point.