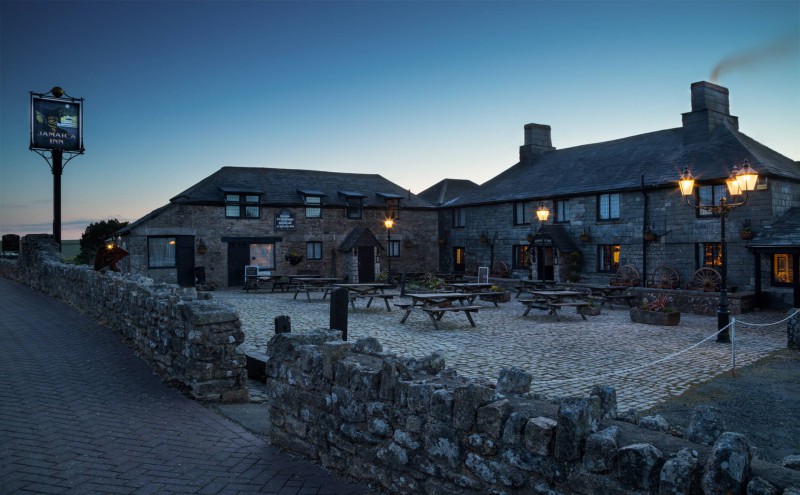 The infamous Jamaica Inn has been at the heart of Cornwall's smuggling trade for centuries. Popular with pirates in need of shelter and sustenance whilst evading the revenue man.
Jamaica inn is situated high up on Bodmin Moor and surrounded by legend, romance and ghosts. Immortalised by Daphne Du Maurier's novel and numerous screen adaptations, the historic coaching house has provided weary travellers with a warm welcome for over 300 years.
Close by to the A30, the Inn is a great base for exploring North Cornwall. Its award-winning restaurant is home to a great selection of hearty pub dishes, light bites and, of course, cream teas. Discover the tales of rogues and wreckers along with the finest collection of smuggling artefacts in the country in the Smugglers' Museum.
A fantastic place to stay, each room has en-suite bathrooms and some feature glorious four poster beds. Stay in the old part of the Inn for a memorable and mysterious experience - for a sleepless night ask for bedroom four.
Jamaica Inn is home to all types of spirits, from the stranger creeping back to the bar to finish his drink, to the sound of horses' hooves and the metal rims of wheels on the rough cobbles. Locking your bedroom door won't help, the cloaked figure in a tricorne hat can walk through walls…
The Inn's hearty full Cornish breakfast will set you up for a full day exploring the surrounding Bodmin Moor which offers some of the best places to see in Cornwall - beautiful walks, breathtaking views and stunning lakes.
Take a short stroll to the magical Dozmary Pool, where legend has it the sword of Excalibur lies. A longer walk will take you to the foot of Brown Willy – the tallest peak in Cornwall standing 1,314 feet above sea level.
Beaches more your thing? There are plenty of coastal Cornish villages within a short drive - explore Padstow, Tintagel or Port Isaac.